SPECIAL ENGAGEMENT
We are excited to announce Martin Ruby with Stonewood Financial will join Gary Marriage, Jr. CEO of Nature Coast Financial in this special engagement educational seminar. Make sure to attend this event. Contact us early for registration and information on this event.
DISCUSSION HIGHLIGHTS INCLUDE:
Learn how your retirement will be impacted by the biggest tax reform Americans have seen in 30 years.
How to identify (and eliminate) the conflicts in your qualified account.
How to create a TAX-FREE income in retirement from your current 401(k)/403(b)/IRA.
Why IRAs can be a retirement planning disaster if not handled properly.
Growing your retirement assets using market-type growth, with PROTECTION when the market drops.
Learn how diversification of your portfolio is essential when it comes to taxes.
The "Do's and Don'ts" of Roth Conversions, and why they're important to understand.
Those in attendance will be eligible to receive a free copy of the book:
The No-Compromise Retirement Plan!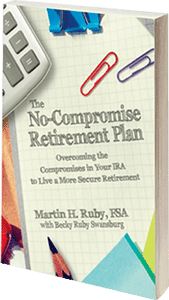 Enjoy complimentary refreshments and a light meal after the presentation.
Everyone who schedules a one-on-one visit will receive a FREE total tax burden analysis and alternative models aimed at reducing tax burden and maximizing retirement income.
Event times/locations are subject to change. If you have any questions or suggestions for this year's events, please contact christopher@naturecoastfinancial.com or call (352) 794-6044. We look forward to seeing you and your guest(s) at our client events this year. By attending a seminar or scheduling a meeting, you may be offered information regarding the purchase of insurance products.
When you register for an event or seminar you will receive a confirmation call and/or email for attending the event.
We will ask a series of qualifying questions that will determine if Nature Coast Financial is the right firm for you.